XM3NOO

Special Event Prefix to Mark the 50th Anniversary of the Opening of the St. Lawrence Seaway
1959 - 2009

This year marks the 50th anniversary of the St. Lawrence Seaway. The waterway was officially inaugurated on June 26, 1959 by Her Majesty Queen Elizabeth II and U.S. President Eisenhower. In the 50 years since completion, the Seaway has stood the test of time facilitating the shipment of more than 2.3 billion tonnes of cargo, valued in excess of $350 billion, to and from some 50 nations. The Seaway has been recognized as an engineering marvel by organizations in both Canada and the United States, as well as a successful model of bi-national cooperation.

XM3NOO will operate April - May, 2009.
QSL info:
Direct with an SAE, # 10 size, "greenstamp" or IRC.

Michael Bell
P.O. Box 44014
Barriefield PO
Kingston, ON K7L 0B4
CANADA
(U.S. operators: United States stamps on the enclosed SAE envelope will not be accepted by Canada Post.
If you wish to use postage stamps instead of "greenstamps" place them loose in the envelope.
I can use them for my own SASE for U.S. contacts. Thanks)
Bureau (via manager: VE3NOO)
E-QSL : XM3NOO is registered.
QSL card is
4 inches x 6 inches.
10.2 x 15.1 mm.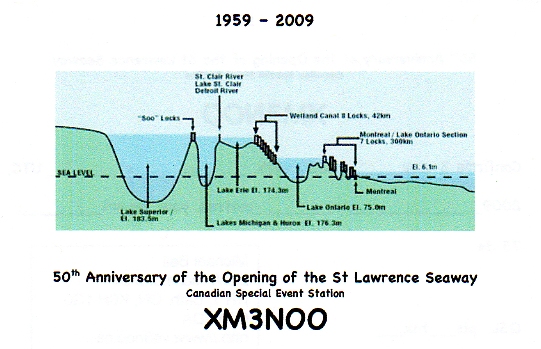 The XM3NOO log contains 1531 entries. Thanks to every one who replied to a call or called.
Logbook analysis by HRD/DM780.