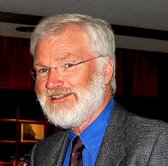 Michael Bell retired as founding Director of Carleton University Art Gallery (1992) and Associate Professor, School for Studies in Art and Culture (Art History). Since 1968 when he joined the Public Archives of Canada as curator of paintings, drawings and prints he has held many positions in galleries in Canada: Associate Curator (1986-92) and Director (1973-78), Agnes Etherington Art Centre, Queen's University; Assistant Director, Public Programmes (1979-81), National Gallery of Canada, and Acting Director, National Gallery of Canada (1981); Director and C.E.O., McMichael Canadian Collection ( 1981-86). Bell also spent a period as Visual Arts Officer of the Ontario Arts Council (1978-79) where he was responsible for programme funding for the province's public art galleries.
During his term as Director and C.E.O. of the McMichael Canadian Collection, Bell supervised the extensive architectural renovation of the building, managed a board of trustees renewal process, and undertook an organizational development programme to position this important Canadian gallery for the future.
Upon completion of the McMichael project, Bell re-committed himself to curatorial work with collections and research in the university setting. This coincided with his terms as trustee of the National Museums of Canada and the National Gallery of Canada (1987-91).

Bell has organized many exhibitions and published widely including articles on public policy and museums. His book Painters in a New Land won the Governor-General's Literary Award for Non-Fiction in 1973. His current interests in word and image studies have resulted in publications on Canadian poets and visual artists Barry Callaghan and Joe Rosenblatt.

Bell has served as a consultant to the Office of the Auditor-General of Canada and as a member of appraisal panels for the National Archival Appraisal Board. From 1998 until 2003 he served as a trustee of the State Hermitage Museum Foundation Canada, Inc.

Michael Bell retired from
Carleton University
December 31, 2003, but continued as Adjunct Professor in the Museum Studies Graduate Program at University of Toronto until 2008.
Photo: Mike Sykes