VE3FRED
Special Event Call
225th Anniversary of Loyalist Settlement in Ontario
1784 -2009
QSL information at bottom of page.
The Township of Fredericksburgh was named after Prince Augustus Frederick, Duke of Sussex, the ninth child of King George III. Fredericksburgh, like the other communities west of Kingston, Ontario was settled by the United Empire Loyalists in 1784.
Fredericksburgh, originally known as the Third Township of Cataraquie was settled in 1784 by discharged veterans led by Major James Rogers. The boundaries were surveyed by November 1783 but the lot lines were not run until the following year.
In order that all the veterans from The Rogers Corps. were accommodated in a single township, land was taken from Adolphustown and added to Fredericksburgh. Fredericksburgh township road No. 1 was the dividing line. This road extends from Conway at the south and bordering the Bay of Quinte, northward to Hayburn on Hay Bay.
The numbering of the original Fredericksburgh lots started at Township Road No. 1 and continued eastward for 26 lots. The numbering of the Township of Adolphustown lots also started at Township Road No. 1 and extended westward for 33 lots. When land was taken from Adolphustown and lot numbering remained, but lots 1 to 12 were assigned to Fredericksburgh. This portion of the former Adolphustown Township was later called 'Fredericksburgh Additional'.
To allow as many settlers as possible access to waterfronts the lots were narrow but deep and were divided by concessions with Concession No. 1 fronting on the Bay of Quinte and Concessions No. 2 and 3 to the north.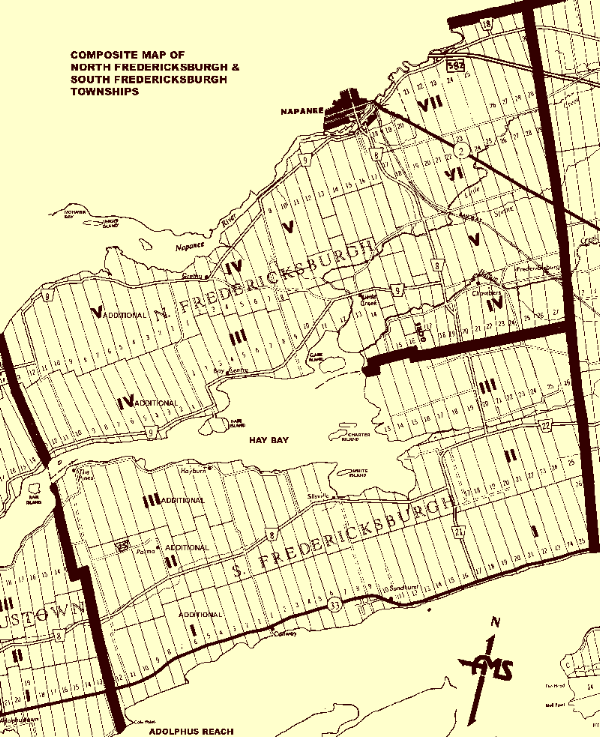 QSL Information

QSL for VE3FRED
Direct or Bureau only via VE3NOO.
SAE # 10 envelope with valid IRC or greenstamps
(1 greenstamp North America, 2 greenstamps international)


Michael Bell
P.O. Box 44014
Barriefield PO
Kingston, ON K7L 0B4
CANADA


The log for VE3FRED contains 567 contacts.
Thanks everyone who answered the call or called.

I used Fldigi software for the month and found it do be a very stable program. The log info was transferred to HRD/DM780 and the graphics below are produced by that program.

QSOs by Band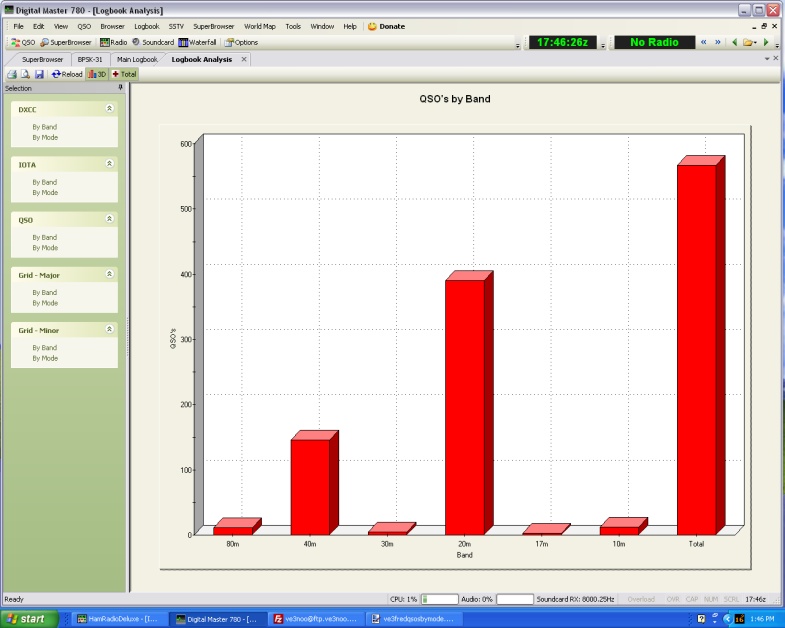 QSOs by Mode